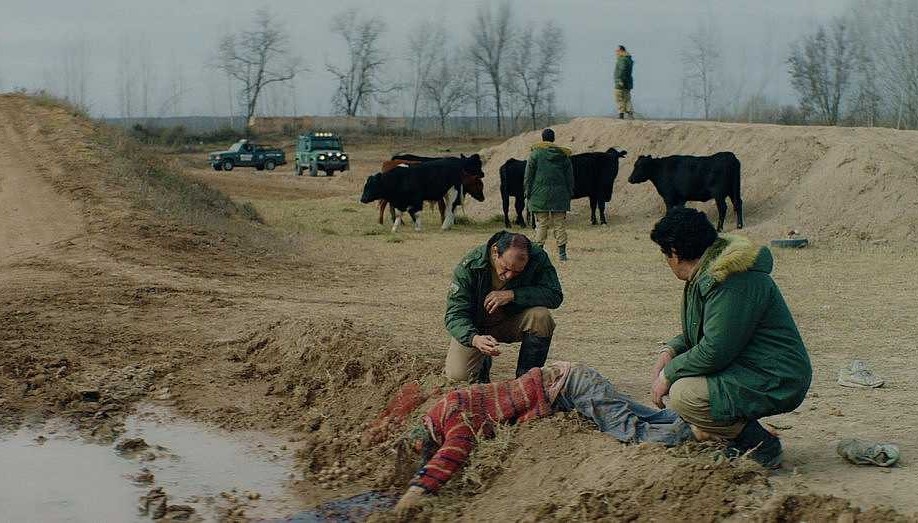 A mythical beast shoulders a heavy metaphorical burden in this boldly original Cannes premiere from Argentinean auteur Alejandro Fadel. Selected for the festival's Un Certain Regard section, Murder Me, Monster keeps viewers on their toes with its idiosyncratic blend of bloodthirsty gore, fatalistic brooding and dark humor. There are pleasing echoes of Lynch and Jodorowsky here, though it is never quite clear if the young writer-director has full control of his film's wayward tone.
Returning to Cannes six years after his prize-winning directorial debut The Wild Ones (Los Salvajes) played in Critics' Week, Fadel calls Murder Me, Monster a "melancholic horror film." It certainly has ample reserves of slow-burn suspense and creepy atmosphere, even if it lacks the propulsive pacing and cathartic resolution that typify genre movies. While consistently engrossing, this cryptic thriller ultimately gets a little too entangled in its own occult mythology, promising more than it delivers. Even so, bold ambitions, classy production values and marketable arthouse-horror elements should appeal to festival programmers and adventurous theatrical players.
Fadel sets Murder Me, Monster in his picturesque home region of Mendoza, high in the Andes mountains, which he reimagines here as a kind of lawless purgatorial backwater where nightmarish creatures prey on defenseless human victims. In an attention-grabbing gambit, he opens with a grisly close-up of a slashed throat spurting blood as a dying woman's head comes unstuck from her body. We are definitely not in Kansas anymore, Toto.
After a number of women are mangled and beheaded in similarly bizarre circumstances, lugubrious police officer Cruz (Victor Lopez) begins gathering clues. His co-workers insist the obvious chief suspect is David (Esteban Bigliardi), a mentally fragile backwoods farmer cursed with audio and visual hallucinations which he claims are telepathic messages commanding him to commit murder. But Cruz is unconvinced, pointing to the gargantuan teeth and treacly saliva trails left behind at several crime scenes. He is also conducting a clandestine affair with David's wife Francisca (Tania Casciani), which may or may not be clouding his judgment.
Despite the joint efforts of forensic experts, autopsy doctors and psychiatrists, the murders continues unabated. The police investigation becomes a western-style manhunt through Mendoza's nocturnal badlands, culminating in a nightmarish thunderstorm showdown which escalates into a full-scale bloodbath. Without giving away spoilers, when the monster finally reveals itself, it is an impressively horrible blend of high-caliber visual effects and make-up work whose tumescent penile tail and toothy vagina dentata jaws have inescapably sexual overtones. Ah, Doctor Freud, how good of you to join us.
So what does it all mean? According to Fadel, the monster is merely a narrative device designed to jolt his characters out of their isolated, unexamined lives. Which sounds a little vague, but it may explain why the film ends with some light religious and philosophical musing on the purpose of existence. However, this incidental coda adds little of import to a deliriously dark fairytale which just about succeeds on its own cultish terms, whatever its author's intentions.
A skilled stylist, Fadel deftly conjures a constant sense of unease with sound design, underscoring almost every scene with ominous drones and rumbles. Working with cinematographers Manuel Rebella and Julian Apezteguia, his acute visual sense also stands out, from his bold use of flares and flames as dramatic light sources to his recurring mirror motifs. He even reshapes the snowy mountain backdrops into uncannily symmetrical landscapes that resemble gigantic Rorschach Tests. Murder Me, Monster may be a little too disjointed a story to merit all this technical panache, but at least it rewards the senses while it confounds the brain.